Underground utility mapping technology is used for residential, commercial, and civil applications of all sizes.
It is primarily used by utility owners, engineering and design firms, private civil construction companies and government organizations and agencies involved with infrastructure projects.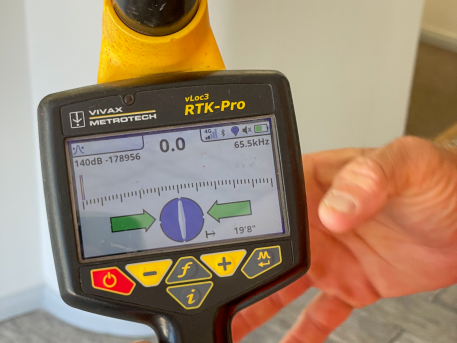 About Utility Mapping Services
AirX's experienced technicians are who you need to competently perform this work. A technician will visit the project site to locate and mark-out utilities using color coded paint, chalk or flags to match colors established by 811 Dig Alert Systems across the country. Clients may then survey our mark out and build a comprehensive base map.
At AirX, we recommend utility locating early within the design phase of projects, this is essential, especially in densely populated, urban areas and areas that have older facilities that may not be properly mapped.
Accurate Mapping Information
AirX can also provide mapping services with very detailed and accurate information. It is important to note that although our maps are very detailed and accurate, they are not survey grade. These maps however, can be reliably used for the design of new projects.
Vacuum Excavation Investigation
AirX provides a very detailed report for vacuum excavation activities when potholing but we can also provide thorough and accurate mapping of underground utilities based on points identified through our locating services if needed.
Areas of additional concern such as utility crossings or facilities that are in close proximity to or impede the new project, are then identified for additional investigation generally with the use of vacuum excavation. With this combination of information, Clients can safely and confidently go to construction armed with the knowledge of what exists in the field.
Why Choose AirX for Utility Locating
Importance of Utility Locating
The use of utility locating, combined with mapping and vacuum excavation in the beginning of a project will streamline the entire project saving time and money. You will have fewer delays and construction changes and ensure safety throughout the project.
From new apartment building complexes to highway construction and utility underground projects; having the ability to identify, locate, and protect existing, underground facilities is a crucial part of all excavation from the planning phase to actual construction to post construction (as builts), it is absolutely vital to utilize this technology.
Commitment to Standards of Excellence
Every 6 minutes an underground utility line is damaged because someone started to dig without proper locating & mapping. Before you begin any construction project, it's essential to know what utilities are beneath the surface – otherwise, costly repairs and dangerous situations can arise and cause detrimental project delays and compromise the safety of your Team and Public.
In fact, doing thorough studies of underground utilities during the design phase has been proven to save substantial amounts of money during construction.
Our team's years of experience and commitment to the highest standards of excellence are truly what set us apart from the competition. Regardless of the size of the job, we'll do it right the first time – and keep your project on track, on budget, and safe for everyone involved.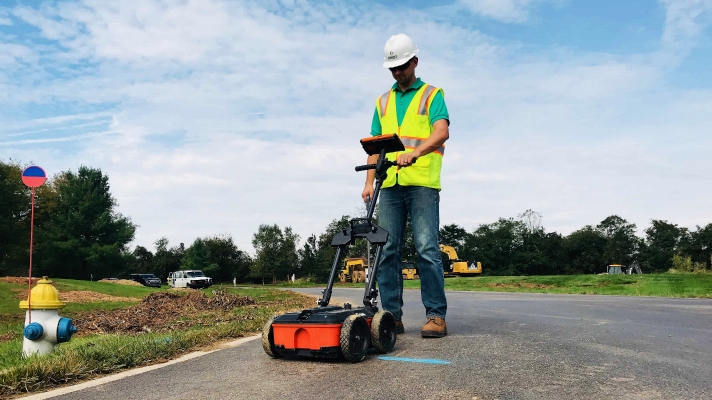 How Our Locating Methods Work
Critical utilities, including gas lines, electrical and telephone lines, cable, sewer and water pipes – to name just a few are all underground utilities. Locating these utilities accurately before beginning construction is absolutely vital.
In fact it's preferred that this work be performed very early in the design phase long before actual field work is begun. There are several specifically developed technologies and processes that we use for this purpose.
EMI (Electromagnetic Induction) Technology
EMI technology is one of the most popular locating methods; it works by generating, sending, and receiving an electromagnetic radiofrequency through the ground. EMI is ideal for locating utilities that contain metal and other conductive materials, such as electric lines, telephone lines, and some gas lines; however, it cannot locate plastic, concrete or other non-conductive medium.
GPR (Ground Penetrating Radar)
GPR is a tool that is frequently used to supplement EMI equipment. It's a nondestructive method that allows the operator to detect both non-conductive (including plastic) and metallic facilities. GPR works by emitting high-frequency radar waves that pulses into the ground and provides results based on how those pulses are reflected back by different objects. GPR is especially useful for finding buried chambers, voids, manhole extents, and underground storage tanks. The use of GPR is limited by soil types, moisture, salt content and depth.
CCTV (Closed Circuit Television)
CCTV is a remote, robotic device used to locate, inspect and map existing underground sewers, sewer laterals and storm drains. It is a very effective, accurate reporting device and AirX Personal are fully trained and NASSCO certified in the use of this equipment.
What to Expect When You Work with Us
Innovators in the Industry with Comprehensive Services
We are one of the first potholing companies in California and have been on the leading edge of SUE technology for over 20 years.  From start to finish, AirX can provide assistance along the way. 
Drafting of permits, plan processing, traffic control equipment and technicians on site are available to get your project up and running smoothly. Road surface repairs, including grind and overlay are available to ensure that you comply with agency regulations for patch repairs. These services are available as needed to suit Client's needs.
Committed to Safety & Sustainability
We are committed to the principles of safety and sustainability within our industry. AirX has an exhaustive Health and Safety Plan that is reviewed and updated regularly.
Our Safety Committee and Safety Experts meet weekly to perform and review Site Inspections, Near Misses, and Safety Incidents. Standowns, additional training and correctional programs are all a part of AirX Safety Culture.  All of us at AirX take Safety very seriously and it is always Job 1!
What is the history of Subsurface Utility Engineering - (SUE) services?
The process of collecting, recording and managing utility data historically has been largely unregulated. In 2003 the American Society of Civil Engineers (ASCE), developed Standard 38.02: Guideline for the collection and depiction of existing subsurface utility data which defines the practice of SUE and establishes guidelines and a system to classify the quality of existing utility data in accordance with four quality levels. This National Consensus Standard (NCS) follows the legal procedures for adoption as not only an ASCE Standard, but also with the American National Standard Institute (ANSI). This classification presents a system by which project owners, engineering firms and contractors can develop strategies to reduce risk, or at least allocate risk due to existing underground utilities in a defined manner.
Quality Level D (QL-D) is the most basic level of information for utility locations. It comes from existing utility records or verbal recollections. QL-D is useful primarily for project planning and route selection.
Quality Level C (QL-C) involves surveying visible above ground utility facilities (e.g., manholes, valve boxes, pedestals, etc.) and correlating this information with existing records (QL-D) information.
Quality Level B (QL-B) is the application of appropriate non-invasive, surface geophysical methods (utility locating) to determine the existence and horizontal locations of virtually all subsurface utilities within a project limits. This data is generally marked out on site and is picked up by survey for use in base maps.
Quality Level A (QL-A) also known as daylighting or potholing is the highest level of accuracy presently available. It provides information for the precise plan and profile mapping of underground utilities through the actual exposure of utilities (usually at a specific point), and can also provide the type, size, condition, material and other characteristics of facility features. Exposure is typically achieved through hand digging or with Vacuum Excavation.
What are the types of utilities AirX can locate?
AirX can locate all types of subsurface utilities; including gas, telephone, water, sewer, electrical, communication lines, underground storage tanks, and more.
What are the different methods used by AirX to locate utilities?
We use EMI (electromagnetic induction), GPR (ground penetrating radar), SONIC technology, CCTV (Closed Circuit Television), dipping of manholes as well as a myriad of other types of equipment and methods to locate utilities. All of these methods are extremely versatile and non-destructive, and can be used in a wide variety of cases, however, they all also have specific uses for which they are intended and they all have limitations in some cases. AirX locators will review all information, identify and mark out utilities as they exist in the field making note of changes, inconsistencies or unverified data. Any conflicts within the proposed project are then targeted for additional research, usually by potholing (vacuum excavation). Our technicians also use surface features and utility mapping as available to assist in their research. AirX will use the correct tool for the job and all of our technicians are trained in the use of each of these tools.
Every effort is made to locate and mark out utilities in the requested area, in the time allowed, however, AirX does not guarantee that all utilities can be located. Some limitations exist with locating methods based on the type of soil conditions, heavy cobble, groundwater, rock or dense clay soils and buried debris may render geophysical locating methods unreliable. Closely aligned but unrelated facilities may yield phantoms or null fields and may distort surface manifestations. If adverse conditions are encountered AirX will cease the current operation and contact the Client for further direction. 
Utility markout will reflect the alignment and horizontal positioning of the utility only. Estimated depth determination is not always considered reliable due to the number of interfaces penetrated and actual depths should only be determined through potholing or submarine visual measurement. 
State law mandates that any excavations near buried utilities are researched thoroughly to confirm location and depth with the use of soft dig technology (vacuum excavation) prior to excavation taking place.
In addition to non-invasive utility locating methods, AirX also owns vacuum excavation equipment used for daylighting – more commonly known as potholing.
Why should I choose AirX?
We have over 150 years of trade experience locating and identifying underground utilities, and provide specific, customized solutions for all of our clients. We are also a Class A General Engineering and C-31 Traffic Control California Licensed Contractor. 
Our team's years of experience and commitment to the highest standards of excellence are truly what set us apart from the competition. Regardless of the size of the job, we'll do it right the first time – and keep your project on track, on budget, and safe for everyone involved.
To see if your project is the right fit for AirX, contact us today!
Contact us